Introduction
AGMinfo
Since 2013, AGMinfo has been collecting and publishing information about general and special shareholders' meetings of European listed companies. Iquality built a web application for this in 2012.
A rebuild to capitalize on new opportunities in the market
In 2017, the Shareholder Rights Directive 2 (SRD2) was adopted by the European Union. As a result, intermediaries are obliged, among other things, to actively inform shareholders about shareholder meetings of companies in their portfolio.
AGMinfo saw this as an opportunity for a new business model. There had to be a quick switch, because the effective date of the SRD2 legislation is approaching.
A solution with low code
Given the desire to quickly deploy an application that meets the requirements of the new business model, the web applications and links are built in a low-code platform. With low-code we have the possibility to be many times faster and more flexible.
Willem van Santen, Director of Operations at AGMinfo, explains the choice for low-code: "We are in a field where, certainly in the technical area, many guidelines are still being developed. In addition, there is little time to translate those guidelines into software solutions. That is why we are happy that we have an instrument in which we were able to quickly move from our old software to a new version, and also in which we can quickly add new things. This way, we can act dynamically and flexibly."
We are happy to have an instrument in which we were able to quickly move from our old software to a new version, and also in which we could quickly add new things.

Willem van Santen, Director of Operations AGMinfo
The new application
The data from the previously built application and the existing functionalities have been converted, and new functionalities have subsequently been added.
It is important that all data from the old database can be automatically converted into the structured model in the SQL Server and the Azure Storage for documents. In addition, there is a new functionality for setting and sending notifications, registrations and votes.
Patrick Joosten helped build the new application and explains: "By building this (restartable) migration first, we were sure that the new applications were complete in terms of data structures and we could also immediately test the performance with a production-like filling of the database."
Application Modernization
Does an outdated application block your digital innovation? An agile application modernization strategy offers the solution. You can read how to tackle this in our white paper "Mind your Gap".
Note: this whitepaper is only available in Dutch.
Download our whitepaper
UX design combined with low code
Because in the new application the intermediaries become customers, and customers of the intermediaries are the end users, it is important that the house style of the intermediary is implemented in the front end of the web application. Patrick Joosten explains: "Iquality has already gained knowledge and experience in combining our UX expertise when building an application with low code. Where other partners may opt for a standard theme, our UX designers and front end developers can together devise and realize a unique and distinctive user interface."
The application is now in the testing phase and the first intermediaries will start using the solution. After this, the platform will be further developed, so that manual steps will be further automated.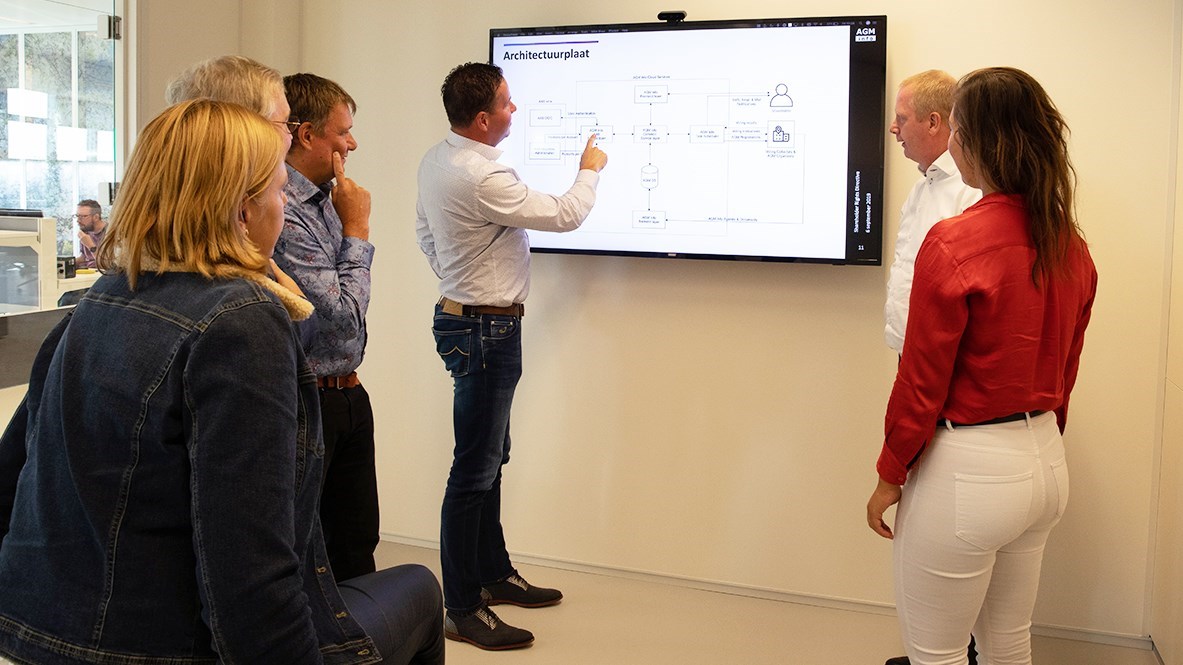 Our specialists are ready to help
Are outdated applications a problem within your organization? We would gladly help you on your way. Together we look at your situation and we go through the steps to see whether a refactor, rearchitect or rebuild strategy is the most suitable.


When a rebuild is preferred for your application modernization scenario, low code can offer a good solution if:

a short lead time is a requirement
the solution often needs to be expanded or changed in the future
other applications must also be built or rebuilt
Do you want to know which strategy offers the best solution for you? Contact us for an introduction.