Introduction
Digital innovations for Freo
Responding to digital developments is very important to be able to distinguish yourself within the financial sector. As an online loan specialist, it is therefore of great importance for Freo to continuously improve its services, so that it remains relevant to the customer at all times.
To achieve this, Freo sets new goals every year to be able to develop further and thus meet the needs of the customer.
Customer needs first
Freo conducted a customer survey at the end of 2018 by asking customers the following question by e-mail: "What would you like to see in My Freo in 2019?"
Fleur van der Kruijs, Product Owner of the My Freo App, explains: "At the end of the year we always look ahead to what the themes for next year will be. We think the opinion of our customers is very important in this regard. We want to develop things that the customer needs and who better to ask than the customer himself."
The research led to 963 responses, of which no fewer than 262 customers indicated that they wanted to see a My Freo App. The responses were as follows: "A My Freo app so that you can access your financial data even more easily. And the ability to easily handle changes and requests via the app." and "An app in which I can check my balance and pay off with Ideal."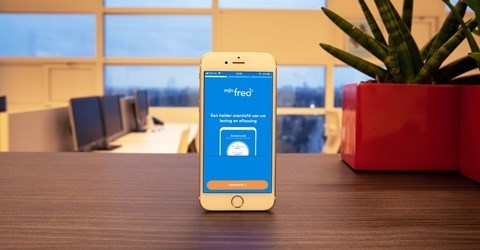 My Freo in an app
Freo had been playing with the idea of an app for some time, but after the customer survey, the plan was finally implemented. Van der Kruijs explains: "After receiving the research results, there was no doubt for our team; that app should be there in 2019! And we achieved developing the app after a year of working hard together."
A team at Iquality has been working with Freo for a long time and they have realized the app in collaboration. "An app was new territory for Freo. It was therefore a matter of trying to find out how we should tackle this. Iquality has played a major role in this. Partially thanks to their expertise, commitment and experience, there is now an app that meets the requirements of Freo in the field of technology and security, and the wishes of the customer."
Partially thanks to the expertise, commitment and experience of Iquality, there is now an app that meets the requirements of Freo and the wishes of the customer.

Fleur van der Kruijs, Product Owner My Freo app
24/7 overview of your finances
Dirk Swartjes, Front-end Developer at Iquality, contributed to the app. He explains: "The app is My Freo, but in a hybrid app variant. The functionality is the same as on the website, but the look and feel is adapted to mobile." With the app, a customer can basically do everything that can also be done with the web version. But now a customer can do it at any moment at any place via a mobile device. From extra repayments and viewing credit and debits, to applying for a new loan, but all with the convenience of mobile. For instance, for example, logging in with a fingerprint or face recognition.
"Today, information is available everywhere, directly and easily. A customer wants 24/7 control and insight into money matters. The app makes it easy to manage your loan from your smartphone. This should contribute to higher customer satisfaction and customer engagement." Van der Kruijs explains.
The app has been launched successfully and is available in the PlayStore and the AppStore.
Want to find out more?
Do you want to know more about the development of a mobile app for a customer portal? Our specialists would be glad to help you!