Introduction
LeasePlan Bank: customer-oriented internet savings bank
As an internet savings bank, LeasePlan Bank is part of LeasePlan Corporation N.V. This global specialist in the field of car leasing and sustainable mobility is active in 32 countries. LeasePlan Bank was established in 2010 and has distinguished itself with sharp choices ever since. For example, the choice to serve over 200,000 Dutch and German customers from the cloud in the future. To steer this crucial project in the right direction, the bank relied on Iquality.
"Iquality has put together a permanent team for us with experts in the field of strategy, concept, design, development and support," says ICT Lead Robert Brockhoff of LeasePlan Bank. "Such a Team-as-a-Service solution works very efficiently, because these experts know exactly what our challenges are. In addition, they regularly proactively come up with new options to further improve our online service. It really feels like an extension of our team."
Migration to the Azure Cloud: responding faster to new customer-oriented opportunities
Financial service providers are under great pressure to work more efficiently, cheaper and more customer-oriented. LeasePlan Bank started its services in 2010, but eight years later already experienced considerable disruption from its outdated IT systems. "These systems required more and more maintenance, and the implementation of updates and adjustments took longer and longer," says Brockhoff. "Moreover, adding new functionalities became increasingly cumbersome for our customers."
LeasePlan Bank therefore decided in the beginning of 2018 to bring its entire online production environment to the cloud. The online savings bank uses the cloud-based core-banking solution from fintech firm Ohpen to record and change the customer data. Iquality took care of the entire cloud migration of the online banking environment. Including the websites for the Dutch and German market, and the environment where customers board and bank.
Iquality's TaaS solution works very efficiently, because these experts know exactly what our challenges are.

Robert Brockhoff, ICT Lead LeasePlan Bank
Renewal: from time-consuming process ...
Previously, any necessary update or desired renewal of the website meant the start of a time-consuming process. Every modification to the website, for example, had to be tested separately first, and then as part of the whole. Only then can the new environment move on to the next phase. Again, numerous test scenarios follow to check the functioning of the new situation on the hosting party's servers. A good part of those tests are manual work and many tests trigger new labor-intensive adjustments.
… to real-time testing
In the new situation, the developers work in the DevOps environment of the Azure Cloud. This automates many of the team's tasks throughout the entire life cycle of the application: planning, development, delivery and use. Every "check in" of a new piece of code automatically triggers all relevant test scenarios. If it causes problems, the developers know almost immediately.
This means that the old, often weeks-long testing process is superfluous in one fell swoop. "A very comfortable feeling," says Brockhoff. "If necessary, we can now implement a new release every week. Moreover, Iquality now also monitors the performance of the live production environment daily. If something is about to go wrong, we can respond proactively and adjust the situation the same day if necessary. All in all, a huge improvement."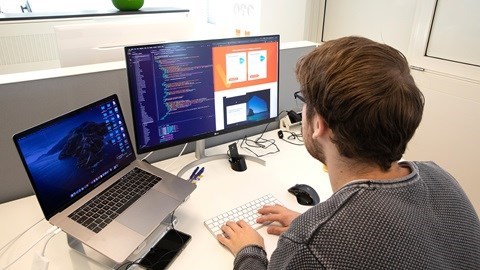 Innovation with Azure Services
In addition to optimizing its existing service, LeasePlan Bank is constantly looking for opportunities to serve its customers in new ways. The Azure Cloud Platform invests billions in the development and making available of distinctive Solutions in areas such as AI, machine learning, analytics, blockchain and IoT. These specialized applications are immediately deployable, scalable and require no additional infrastructure or management.
"We are looking, among other things, at opportunities to further facilitate our onboarding process," says Brockhoff. "For example, by processing the data from scanned identification documents directly in the profile of new customers. Thanks to the availability of Azure Services, we now have many intelligent services within reach that support such innovative solutions. That means a huge acceleration of your innovation process."