Introduction
A central meeting place
RWB (Regio West-Brabant) consists of 16 municipalities and together they have the ambition to work on a powerful region. RWB's online services act as a central meeting place where municipality-transcending themes come together, such as (circular) economy, a talented region and an easily accessible region. The better the platform is set up, the more collaboration can take place between municipalities and the better they can communicate information to their target audiences. With Headless CMS Contentful, we created a digital experience that is accessible to everyone, both the end user and the team managing the website.
Growing ambitions
Within the design of RWB's previous website, it was becoming increasingly difficult to promote cooperation between the municipalities. A development team was often needed to manage, change and create content on the website, which ultimately meant that the content structure, as well as the user-friendliness of the underlying CMS, could no longer meet the requirements. .

Iquality therefore put in UX workshops when developing the new platform to find out the right goals in terms of accessibility and choosing user-friendly Headless CMS Contentful to ultimately build a powerful Composable Digital Experience Platform (DXP).
Digitally accessible
For a government agency like RWB, accessibility, digital inclusion, is very important. Everyone should be able to use an online product or service. To determine what goals RWB wants to achieve with their platform, we started with extensive UX workshops. We focused on the wishes of the end user. Based on these results, we created a clear navigation structure and designed clear functionalities. The new interface makes it easy to navigate within the website, find relevant information and engage with the region, enhancing the user experience and accessibility.

Find out more about how we handle digital accessibility and our sustainable development goals here!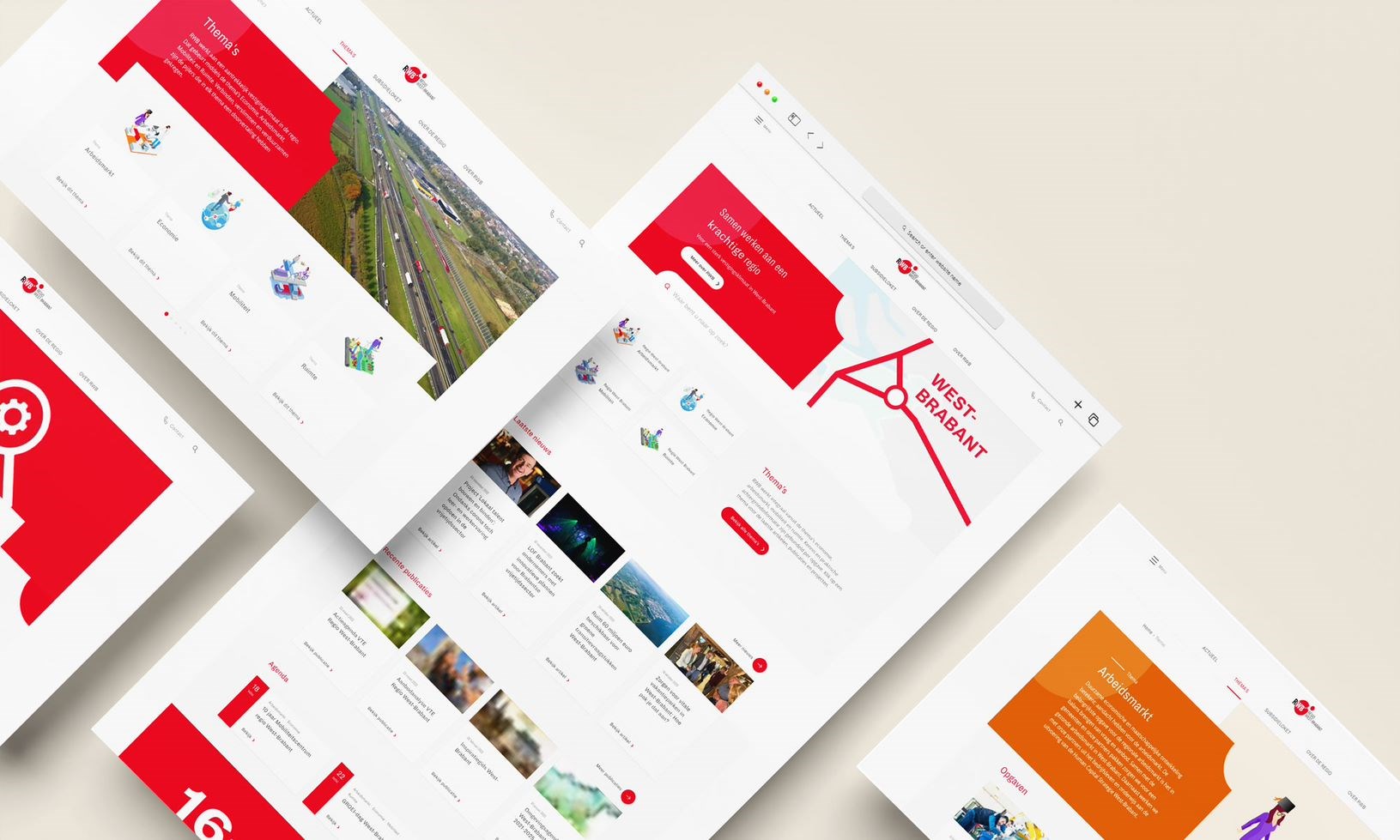 How a Headless CMS contributes to usability
RWB ran into the same problem more often in 2019: the CMS implemented at the time was not growing with the ambitions of the content team, causing the platform to lag behind. We solved that by choosing Headless CMS Contentful.

With a Headless CMS, the frontend is decoupled from the backend. This means that all types of content are stored in the backend, the CMS, and how this content is displayed within the website is stored in the frontend through code. Together with RWB, we created content models so that all content is divided into small building blocks, or components. Content editors can easily click a page together by selecting components of their choice and filling them with the required content, without having to make choices in the styling of the components or page.

Whereas in the old situation content managers spent most of their time presenting content, they can now manage, modify or create content quickly and easily.
Getting a grip on the platform
Starting from a Composable Digital Experience Platform (DXP), we started building. We realized several API links so that separate systems communicate with each other. For example, we extended the platform with best-of-breed solution Algolia for a powerful search function. The Composable DXP approach gives RWB back control of the platform. In the future, they can change or scale up systems within their platform as needed - a future-proof and flexible platform!
Thanks to Iquality, we are making it easier for grant applicants to submit their grant plan or pilot.

Guus Arnouts, communication advisor & website manager at RWB
Integration with Form.io
RWB encourages projects that contribute to the strengthening of the region and therefore offer the opportunity to apply for the Research & Development Fund (O&O Fund) grant fund. Parties wishing to apply for the R&D fund could do so by filling out a Word document, which could be downloaded from the website. For both the applicant and RWB, this was a time-consuming and error-prone task. Because there is a lot of value in automating this process, we extended the platform with SaaS solution Form.io. Form.io allows us to get advanced forms onto RWB's website relatively easily and to customize them to RWB's corporate identity. BUT RWB itself is also able to make modifications, win-win!

Guus Arnouts, communication advisor & website manager at RWB, says: "I experience the collaboration with Iquality as smooth and pleasant. In close consultation with various professionals at Iquality, we look for ways to optimize the Regio West-Brabant website and make it more user-friendly. One great example is the new Research & Development Fund page. Thanks to Iquality, we are making it easier for grant applicants to submit their grant plan or pilot. The website is also an important pillar within our organization and to the outside world."
What's next?
RWB's digital experience is set up in 2020, despite the corona pandemic, we conducted several workshops together to achieve this unique, flexible and reliable result. We are proud of that! We developed a Composable DXP with a user-friendly CMS, a frontend that meets digital-accessibility requirements and allows RWB to remain agile in the future.