Alternatives to Google Analytics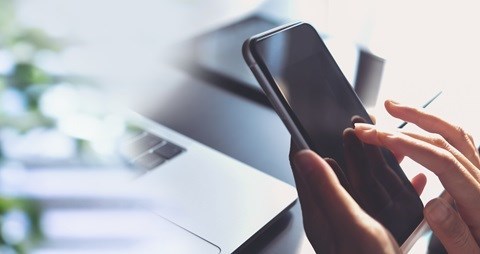 Introduction
Responsible handling of data
Modern users, as well as organizations, are looking more critically at data and what happens to it. Certainly organizations face a challenge here: how do you strike a balance between privacy and the use of data?
At the time of writing, privacy watchdogs from several EU member states have banned the use of Google Analytics. Also in the Netherlands, the AP (Autoriteit Persoonsgegevens) is considering banning Google Analytics. The Google service uses personal data (including IP addresses) in collecting behavioral data from website visitors. In doing so, the company cannot guarantee that this data stays within the EU, which violates the dutch privacy law AVG.
We feel it is important that our knowledge regarding privacy and security is conveyed to our clients so that they too handle data properly. Since the Google service is under fire, we are happy to share some of the existing alternatives in this blog.
Plausible
As an organization, do you aspire to be as privacy-friendly as possible? Do you settle for less comprehensive reports? Are web analytics not an essential part of your business model, but only a tool? Then Plausible might be a good choice for you!
Plausible claims not to store any personal data and does not use cookies. How does it work? Based on the IP address and browser information, a unique code is generated and stored. This unique code cannot subsequently be traced back to the visitor's original data. With this method, a visitor can be tracked for a day and the corresponding data can be processed in general reports. Plausible provides a great example of these reports here. They even claim that a cookie notification is not necessary with this form of web analytics, although we think this is probably going a little too far.
Plausible's fully open source implementation can be self-hosted, keeping data in your own hands. There is also the option of purchasing a service from Plausible, in which case it will be taken care of for you. This service is hosted in the EU, is attractively priced and comes with a clear data processing agreement (DPA). Plausible's revenue model is based on the hosting services offered and not on the use of collected data for other purposes or sharing with third parties.
+ Inexpensive solution
+ Very privacy friendly
- Very limited in functionality
Matomo (formerly Piwik)
Are you looking for an alternative that resembles Google Analytics as much as possible? Do you want a seamless transition by importing past data into Google Analytics? Do you want your visitors' data not to be used by third parties or for purposes other than those specified by you? Then check out web analytics tool Matomo.
Matomo (formerly Piwik) is a tool that clearly competes with Google Analytics in terms of functionality. Many similar functionalities such as goal setting, funnels, tag manager, SEO analysis and heat maps are present. This makes it a very complete package. Of course, it will take getting used to all the functionalities, so keep in mind that this will take some time and effort. There is a live demo available on Matomo's website, you can find ithere.
In addition, Matomo is completely open source and can be self-hosted, keeping data in your hands. As with Plausible, Matomo can be purchased as a service, it is hosted in the EU. This service is more expensive than Plausible, more data is collected which leads to more "hits. Matomo's revenue model is based on this hosting and therefore, again, the data remains out of the hands of third parties.
+ Very extensive in functionality
+ Migration of Google Analytics data
- Higher costs (if hosting is purchased)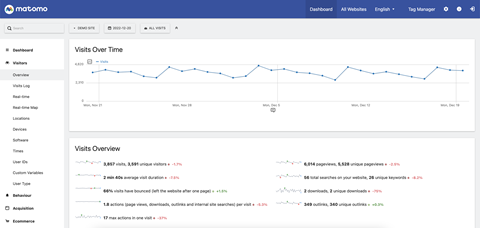 Microsoft Clarity
Is Microsoft already a supplier to your organization, making it easier to bring in a Microsoft product? Do you want to have no cost on a Web analytics solution, as with Google Analytics? Are you looking for a tool that focuses primarily on user experience (UX)? Then Microsoft Clarity is a good alternative.
Microsoft Clarity is pretty simple in the basics. The options for general reporting are less extensive than with Google Analytics and Matomo, but will suffice in many cases. The strength of this tool lies mainly in its ability to analyze individual sessions and user behavior in detail. This can be enormously useful when you want to research the usability of your website. It therefore competes more with Hotjar than with Google Analytics. A live demo can be accessed as a link from the homepage.
Microsoft Clarity also offers an integration with Google Analytics, but in a completely different way than Matomo; it involves a live link with Google Analytics. That means you can use both tools at the same time. When you start using Microsoft Clarity along with Google Analytics and then enable this integration, you get additional functionality. If Google Analytics is disabled, you can easily switch to just Microsoft Clarity.
There is an important caveat with Microsoft Clarity. Although Microsoft has a comprehensive privacy statement and also a better focus on privacy compliance, it is not clear whether the guarantee can be offered by this U.S. company to keep data within the EU and not share it with U.S. agencies under any circumstances. This could possibly lead to this solution being disapproved by the AP (as is also threatening to happen with Google Analytics). On top of that - as with Google analytics - the collected data is used by Microsoft itself, for example for advertising purposes.
+ Free solution
+ Extensive UX insights
- No full control over data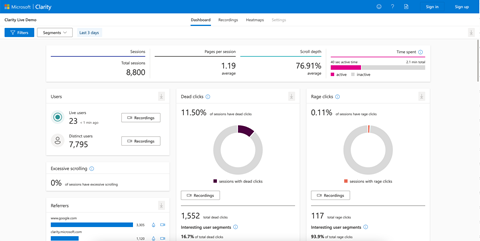 Sitecore Experience Analytics
Do you, like a number of our customers, have a website based on Sitecore XP? Is your focus on the quality of interactions on your site, rather than quantitative data? Do you want to take advantage of Sitecore's personalization and A/B testing capabilities based on visitor behavior? Then you may not even need to look for another tool.
Sitecore Experience Analytics offers less extensive capabilities than Google Analytics. Therefore, the focus of this solution is also a little bit different, they concentrate more on collecting data on Engagement Value'. With the accumulated data, you can personalize specific parts of pages for your visitors. This functionality is deeply integrated into Sitecore's content management system. In addition, it is possible to adapt standard functionalities or extend them through customization.
Would you like to expand the web analytics within Sitecore Experience Analytics? Our team of specialists will be happy to help you!
+ Are you already using Sitecore XP? Then you already have this tool at your disposal
+ Data fully under your own management
- Standard a different focus than Google Analytics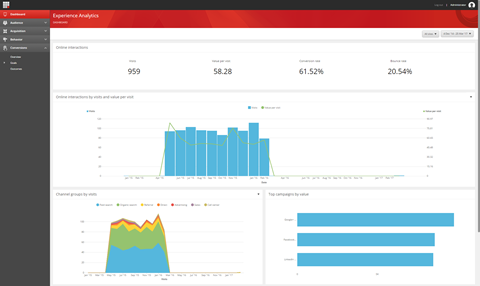 Which tool is right for you?
The above Google Analytics alternatives are just a sampling of different tools available. When developing software, a website, applications or a "My environment," our experts take into account the ever-changing privacy rules and ensure that your users' data is in the right hands.
Want to discuss this topic further? Let's meet!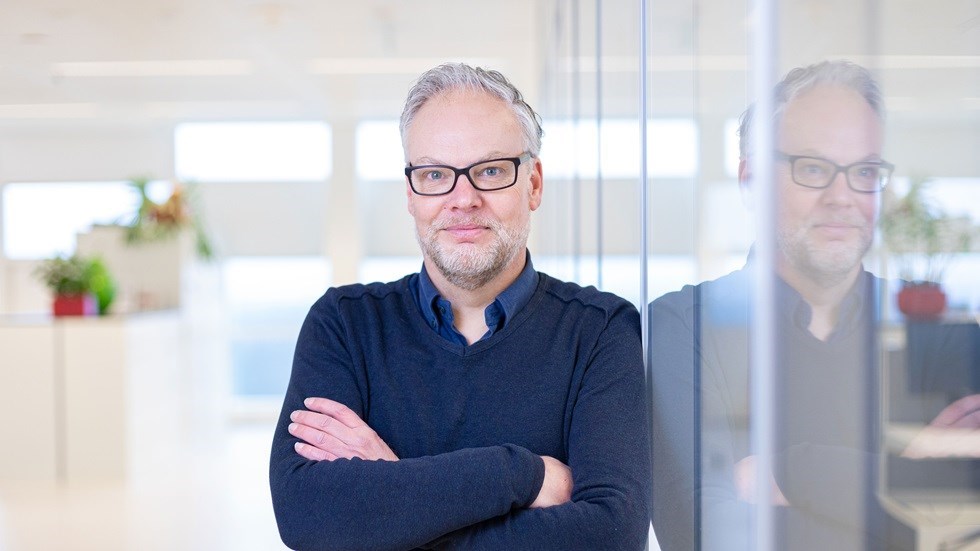 Together we make you smarter
MEET JOHN
I am curious to hear your story. Let's discover together what digital technology can do for you.