Introduction
A fresh start for a better customer experience
We have completely renewed the My Environment developed in 2016 for Vitens, the largest drinking water company in the Netherlands! With the replacement of the backend by SAP S/4HANA Cloud, optimizations and adjustments of processes followed. This created the need for a completely new My Environment. We developed a new platform that is seamlessly integrated with the new backend and incorporates Vitens' new corporate identity.
The functionalities of 'My Vitens'
My Vitens is an environment where 5.8 million customers can perform actions such as submitting meter readings, registering as a new customer, reporting a move, viewing invoice details and making payments via iDEAL. The amount of users of this environment makes it very important to offer an optimal user experience, which is of real added value.
Easy login without password
One of the optimizations within the development of My Environment was aimed at improving the login process. Previously, the pages around password recovery and forgetting were the most visited pages. We have implemented a solution that allows users to log in without a password. They can quickly and easily access their personal account using their email address and a unique code generated for each individual login.
This optimization has led to a significant improvement in the user experience. Customers no longer need to remember or continuously re-enter passwords, resulting in a more efficient login process. Moreover, this way of logging in reduces password-related problems, such as forgotten passwords or hacked accounts.
Roy Hendriksen, Online Service Manager at Vitens, says; "the performance of the new website has increased significantly compared to the previous version! Meaning, that after the launch of the new 'My Vitens' environment, more customers will arrange their water affairs digitally. In addition, the functionality has proven to be robust and very stable after implementation."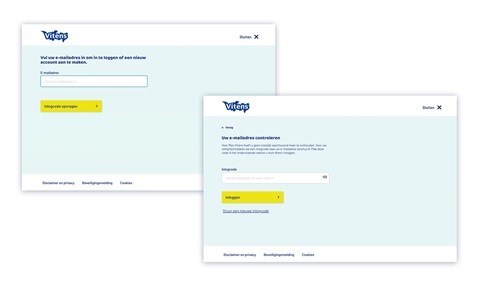 UX-driven design: The customer at the center
A well-designed UX ensures that customers actually have easy access to the available functionalities. Together with Vitens, we approached the design from the customer's perspective, focusing on offering an intuitive user experience. By thinking from the point of view of the customer instead of functionality, we have succeeded in creating an environment in which customers can arrange their affairs easily and independently.
Sitecore: The backbone of Mijn Vitens
The Sitecore Platform plays a major role during the development of the new environment. It has the capacity to seamlessly integrate the underlying systems on the platform and it offers a solid foundation for an environment with an intuitive user experience. In the future we will further optimize this by using the marketing tooling of the Sitecore Platform.
Seamless integration with SAP
In addition to developing the customer portal, we ensured seamless integration with the SAP S/4HANA Cloud platform, on which all Vitens back office processes have been redesigned. Realizing an integration like this requires tight planning and close cooperation with all stakeholders. By cleverly combining and bringing together different technologies, we have laid a strong foundation for offering an optimal user experience.
Would you like to read more about how we draw up a structured testing strategy? Read more here!
Extensive testing work ensured minimal issues after going live
The quality of an environment such as My Vitens is of great importance. Prior to going live, we carried out extensive testing. By extensively testing and validating all functionalities and workflows within the environment, any bugs, errors and inconsistencies could be identified and resolved before the environment went live. This has ensured a smooth go-live and minimal post-launch issues.
A digital transformation that shapes the future of Vitens
With the development of the new My Vitens environment, Vitens has taken an important step in their digital transformation. By implementing an optimized customer portal, they have improved the customer experience, streamlined processes and increased flexibility. With plans for further expansion and improvement of the portal, Vitens continues to invest in optimizing the digital experience for their customers in order to contribute to their ambitions: creating a 100% sustainable drinking water system.