Customer experience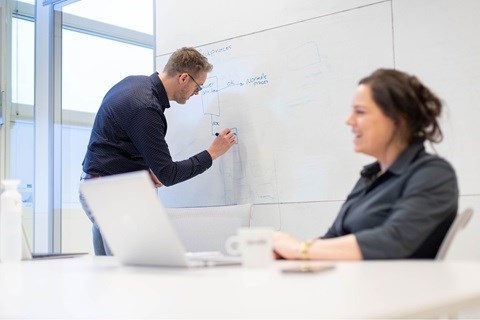 Introduction
Meaningful connections throughout the entire customer journey
A digital user experience is all about the interaction potential customers have with your product or service today and tomorrow, with the aim of an effective connection with your brand. Like technology, consumer expectations change day by day. This means that creating a digital solution is not a one-off challenge or opportunity, but an ongoing process. We focus on providing a dynamic and personalized experience across all channels and touchpoints. Our teams capitalize on emerging technologies to make interactions with your customer better and smarter every day.
An optimal customer experience
Customers are driven to action by the feeling they get from a user experience. They indirectly determine the degree of your success. That makes putting the user first all the more important. We help you understand your customer journeys and investigate the needs of your end users. We create a clear structure, develop clear functionalities and realize consistent omnichannel experiences. We set up technology for you so that you can use data to automate and personalize.
We create a digital environment where customers are optimally served, resulting in higher loyalty, increasing conversion and an improved brand position. By combining UX and technical expertise, we put your users first, not the other way around.
Building a sustainable future
Determining the direction for the future is difficult, but with the right knowledge and technology you can prepare and organize your digital solutions as well as possible. Based on the ambitions of your organization, our teams build a scalable architecture landscape that suits you, such as a Composable Digital Experience Platform. We ensure that different techniques, tools or platforms work together seamlessly, even when ambitions change in the future.
Curious about which platforms, tools or techniques we will use to shape your landscape? Check them out here!
Continue innovatie
We have been creating, innovating and expanding technology for more than 25 years. With our accumulated expertise and philosophy 'Get Smarter Every Day', we are able to actually apply innovation. Not only today and tomorrow, but also in the long term. We offer smart solutions that we tailor to the ambitions of your organization. But we don't do that alone, we do that together with you. We are happy to tell you more about this, contact us and let's get acquainted!