Iquality continues as part of Broad Horizon
Introduction
Combine forces
Today we are proud to announce that Iquality will continue as an independent company under Broad Horizon, an umbrella organization where knowledge from different companies come together. Broad Horizon and Iquality are a good match because we both believe in growth, collaboration and sharing knowledge. It enables us to become even smarter.

It's Iquality's ambition to translate possibilities in software into digital solutions for customers, employees, and society. We will continue to develop our Teams as a Service services and deliver full SaaS solutions under our Purple Unity label. We see a unique opportunity in the collaboration with the various Broad Horizon companies to accelerate this process and enrich our services.
Broad Horizon is now The Digital Neighborhood. Read more about the Neighborhood here.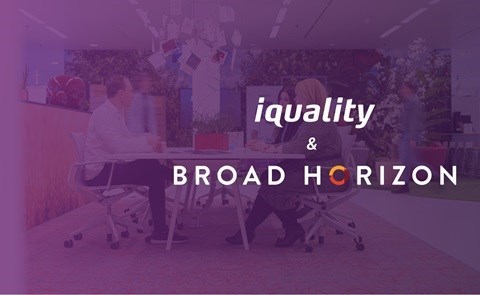 Jean-Yves Charlier, CEO of Broad Horizon, about the acquisition: "This acquisition fits with our ambition to become the partner for all complex digital challenges of companies. With the Teams as a Service solution from Iquality, we meet the DevOps customization demands of our customers, as a supplement to our Microsoft offering. We look forward to a successful partnership with the Iquality team and are honored that the 60 Iquality colleagues will become part of the Broad Horizon community.
John van Beek, CEO of Iquality, explains: "Within the Broad Horizon network we will intensively share knowledge and collaborate. I'm convinced that this will make 'the digital journey' even more interesting for our customers and employees."
Patrik van Gelder, COO of Iquality, adds: "We consider the personal development of our employees to be very important. Because of the synergy with the companies that operate under Broad Horizon, we can take even more steps in that direction. We create an interesting environment for both our customers and employees."
Patrick Joosten, CFO of Iquality, explains: "With Broad Horizon, we are bringing in more and especially new (Microsoft) expertise. This allows us to offer our customers an even wider range of digital solutions, enabling us to grow even faster. We are very curious what our employees and customers think about this."
With Broad Horizon, we are bringing in more and especially new (Microsoft) expertise.

Patrick Joosten, CFO of Iquality
About Broad Horizon
Broad Horizon is a group of companies working seamlessly together to advise, simplify and overcome complex digital challenges across Cloud & Platform, Data & AI and enterprise applications. Each company brings its own strengths, experiences and talent, but all with the same mindset: to help you and each other.
About Iquality
Iquality delivers the ultimate digital solution with impact. Our multidisciplinary UX-DEV-OPS teams of experts design, develop and optimize powerful digital solutions adapted to the ambition of our customers. We bring ideas together to achieve a unique result. A result with which we want to achieve goals. We make our customers smarter: Get Smarter Every Day!
About Purple Unity
Purple Unity designs, creates and implements unique API-first headless software services delivered in a SaaS (Software as a Service) architecture. We focus on supporting business tasks, collaboration and cloud first. By using SaaS solutions that focus on a clear task and on connectivity, we can significantly accelerate the digital transformation process.
For questions or more information regarding this press release, please contact Iquality via info@iquality.nl.