How can you support the Ukrainian people?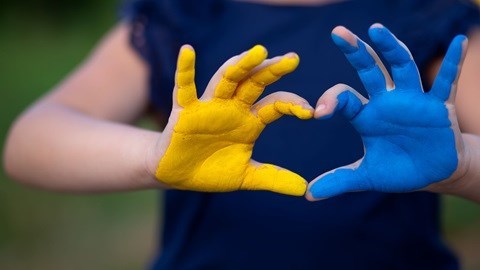 Introduction
How you can help
News items about the war in Ukraine keep popping up throughout the day. Shocking, heartbreaking and very sad. The lives of many people have been completely changed overnight. Our thoughts are with our development team in the Ukraine and the many thousands of people who have become victims of this war.
Fortunately, there are charities that we can support so that they can provide assistance to victims. In addition to supporting charities through financial contributions, there are also local actions that are organized, such as a collective collection of materials that are then transported to the border of Ukraine. In this article we list a number of initiatives.
Make a donation to Ukraine
Despite the distance, there is always something we can do. From small individual initiatives, to major global aid operations, every action counts. There are many different large-scale charities working to help people who are escaping and seeking protection in neighbouring countries. They are often present in the area to offer these people immediate emergency aid, such as shelter, medical care and clean drinking water. Would you like to offer financial support to a good cause? Then take a look at the 3 options below:
Het Rode Kruis – The Red Cross opens giro 5125 for aid in Ukraine and surrounding countries. They help those affected on the ground and people who have escaped with food, water, medical care and psychosocial help.
Stichting vluchteling – The Refugee Foundation offers emergency aid in crisis situations and stands up for refugees and displaced persons. Anywhere in the world. With a donation to giro 999 you contribute to emergency aid for refugees where it is needed most.
Giro 555 – Giro 555 offers help to refugees with shelter, water and food. They work on sanitation and supply medicines. The options for emergency education for children and psychosocial help are also being examined.
Donate and help
Together we are stronger than alone. Take action and donate to a good cause!
Donate material
Another way to lend a helping hand is by donating material. For example, the 'Ukrainians in the Netherlands' foundation collects different materials at different locations. Do you want to know exactly what they collect and where you can drop it off? Read this document and see what you can do.
Other initiatives for, for example, donating material are often organized locally. Take a look at the 'indebuurt' website. In an easy overview, they indicate per location what you can do in your area to contribute.
Demonstrate
Make your voice heard during a demonstration. Many Ukrainians are currently not able to make their voice heard, how beautiful it is to show support through your own voice. Take a look at Facebook to see if a demonstration is being organized in your area. In addition, the 'Ukrainians in the Netherlands' foundation also has an overview for large-scale events, keep an eye on it!
Help Ukraine
We can always do something and every little bit helps. Together we are always stronger than alone.
We can always do something together
Our thoughts go out to our development team in Ukraine and the many thousands of people who have become victims of this war.