Team as a Service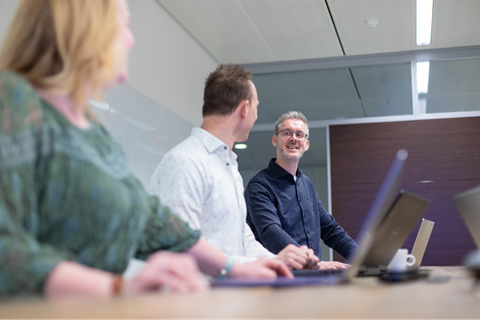 Introduction
Multidisciplinary UX-DEV-OPS teams
Our dedicated teams consist of different disciplines where strategy, concept, design, development and support are brought together. Thanks to the Team as a Service (TaaS) model, our customers have continuous access to our skills, knowledge and support. This can range from building new unique software from the ground up to monitoring and maintaining existing platforms, workflows and services.
The teams consist of various roles, each with his or her expertise such as ux designers, front-end developers, back-end developers, support engineers, test engineers, etc. They have been working together for years and therefore have good work synergy. Our teams help you discover, create and use your software solution.
How do the different disciplines work together? Read more about our working method here.
TaaS as a growth accelerator
With a TaaS model you push the boundaries of digital transformation: do you need extra capacity to realize that?
Yes, let's meet!
Fast onboarding
As we briefly mentioned above, our multidisciplinary teams are fully attuned to each other because they have been working together for years, but our tools, systems and processes are also well coordinated. Our teams are complete: they are equipped with all the disciplines needed to develop digital solutions, so we can start working with you right away.
compose your team yourself
The TaaS model is extremely flexible: put your team together per discipline and per hour. It enables our customers to scale a team as needed. You can use the capacity of our team in full, but you can also purchase part of the capacity.
The teams can quickly ramp up activities for large-scale projects without having to hire or train new employees, all the necessary expertise is present in the team. This accelerates the time-to-market of digital solutions. This way you stay ahead of the competition and benefit from the opportunities in the market.
Team as a Service is your growth accelerator, we continuously work with you to accelerate and support digital innovation

John van Beek, CEO at Iquality
Team as a Service as a growth accelerator
In this era of strong digitization, you undoubtedly want to push your boundaries, a TaaS is your growth accelerator. We work agile and lean and research, invent and design in concepts and prototypes, all in iterative short loops. A way of working that facilitates experimentation, an important factor of innovation.
In addition, the knowledge about your organization, your market and your preferences is retained. Time is thus invested in actual innovation initiatives and not in unproductive management or building knowledge.
We work with technologies such as: Contentful, Sitecore, OutSystems, DatoCMS, Storyblok, .Net (dotnet). Continue reading here.
1:1 contact
Throughout the entire solution lifecycle, we work as directly as possible with our customers. No hidden specialists behind a service desk or a project manager, you and your colleagues have one-on-one contact with our team members.